Yesterday I saw a TV commercial where Irfan Khan is trying to protect a hassled man from getting drenched in rain with a tiny umbrella. The advertisement mocks our habit of taking insurance cover for far lesser than what we should actually have. With increasing cost of living and greater financial liability of individuals, it is evident most of us need to insure self and family to far greater extent than we presently do…lest we might get drenched in hour of need. Surprising, contrary to popular believe, Term Insurance is not an expensive proposition with TERM INSURANCE PLANS. Typically for a cover of INR 50 Lakhs, yearly premium works out to as less as INR 10000!
Term Life Insurance or Term Assurance is life insurance which provides coverage at a fixed rate of payments for a limited period of time, the relevant term. After that period expires coverage at the previous rate of premiums is no longer guaranteed and the client must either forgo coverage or potentially obtain further coverage with different payments and/or conditions. If the insured dies during the term, the death benefit will be paid to the beneficiary. Term insurance is the least expensive way to purchase a substantial death benefit on a coverage amount per premium dollar basis over a specific period of time. More…
Here is a quick review of various policies available in market as on Dec 2010. The review addresses few basic doubts regarding Term Insurance, few of which are listed underneath. 1. Are there Riders available in Term Insurance? 2. Till what age can I avail Term Insurance? 3. What is the min/max tenure of Term Insurance Policies? 4. What is the Claim Settlement Ratio of various companies? 5. How much is the premium for such policies?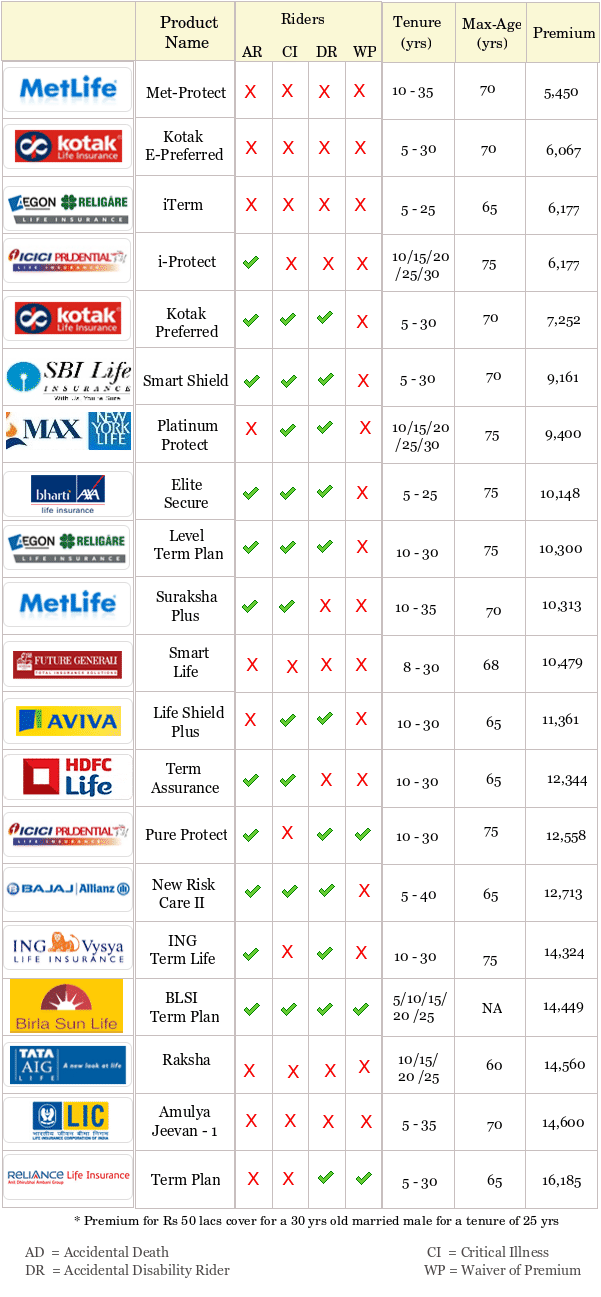 Source: https://www.jagoinvestor.com/ Note: The premiums displayed might be dated. Please visit respective site for calculating present-day premium.
Brief overview of Riders
AD (Accidental Death): The policy pays you additional sum, over and above sum assured, in case the death happens due to an accident . Even if you don't take this rider, the sum assured is always paid on death, whether accidental or not!
CI (Critical Illness)

: This rider gives you a lump sum amount if you are diagnosed with an illness which is mentioned in the policy . Generally all the major illnesses are covered in Critical Illness cover. This is like a Medical Cover but better because it is not tied to your actual medical expenses incurred.
DR (Accidental Disability Rider)

: This rider covers you for disability and pays you Sum assured in defined installments per year in case you becomes temporary or permanent disabled person. Investor need to read between lines to be sure whether the policy covers temporary or permanent disability and how does it define these.
WP (Waiver of Premium)

: This rider makes sure that incase you are not able to pay future premium due to disability or income loss, the future premiums are waived off , but your policy is still in force like always.
Know more about few specific Term Insurance policies by following underneath links. SBI LIFE's – SMART SHIELD – Calculate premium LIC's – AMULYA JEEVAN – I – Calculate premium ICICI PRULIFE – iPROTECT – Calculate premium RELIGARE – INCREASING TERM PLAN – Calculate premium RELIGARE – LEVEL TERM PLAN – Calculate premium
Claim Settlement Ratio of Insurance Companies
It is an Investor's interest to know whether he will be reimbursed with sum assured at the hour of need or not. There are 3 due-diligence practices that need to be followed to ensure that the claim is settled promptly, irrespective of Claim Settlement Ratio of various companies. 1. Fill the forms properly. – Provide accurate information/documentation while applying for the insurance 2. Pay your premiums on time 3. Know the policies' terms in print and what in means in practice – Know clearly what is assured and under what terms. Here is the list of all the Insurance companies in India with the Claim Settlement Ratio . The data are from the recent IRDA report for 2009-2010 which can be downloaded from here. One important detail is that 8 out of 23 life Insurance companies have reported profits , which are LIC, ICICI Prudential, Kotak Mahindra, SBI, MetLife, Bajaj Allianz, Sahara India and Aegon Religare.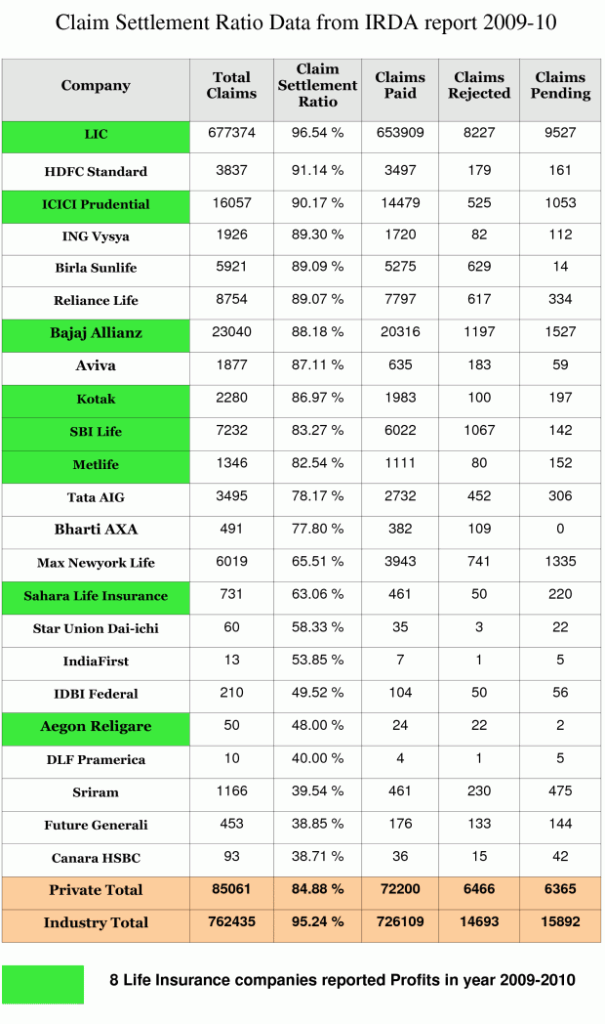 I believe that Claim Settlement Ratio is not a very good indicative of a companies' settlemy policy because: 1. The Statistics may be skewed towards claims arising out of living through the policy term and not actually realizing it because of death. – The real indication would be from Death Claim Settlement ratio which is not indicated anyhwere. 2. Claim Settlement Ratio does not specify amount of settlement. – It is possible that lot of small claims have been settled but claims with large sum assured have not be settled. 3. Each policy is unique in its own way and terms/premium may wary from one policy to another. – This may cause comparison between apples and oranges!
Online Term Insurance vs Offline Term Insurance
With online term plans coming in market, three things has happened. First, Customers have really got excited seeing very low premiums which insure them at throw away prices. Reduced costs of policies is possible because of the savings in marketing cost of insurance companies, which is passed on to the end-customer. Second, as accessibility of information has become more and more transparent over internet and through IRDA's supervision, people can read through the documents of various companies at ease and take an informed decision. Third, the transactional time for processing a request for new policy has been reduced. So if you a kind of person comfortable with internet shopping, you can hit the keyboard and get a policy right away. If you need to interact with someone before you take the plunge, you may try the old way of buying insurance through an agent. However this methodology will cost more than online term insurance, which you may be comfortable with. A word of caution though…an agent might try to sell where his commissions are best though not necessarily!
Special Features in Some Term Insurance Policies
There are some term plans with very different set of features. Lets have a look at some of the those. These features can help you further in your decision.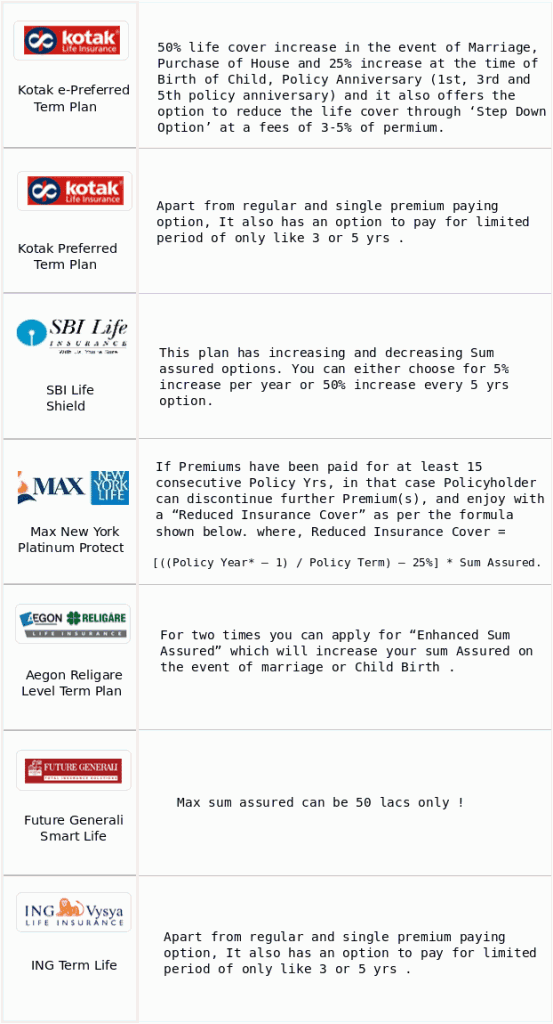 Source: https://www.jagoinvestor.com/ So here we come to an end of this posting. Few points for introspection: – Am i adequately insured? – Which policy suits my interest best? Take an informed decision and post your opinion and doubts here. Hopefully you will find answers to most of your queries right away.